More department stores, manufacturing companies, hotels, restaurants and even airports are using the Polished Concrete. This just proves that that more people sees the benefits and beauty of concrete polishing. It also goes to say that concrete polishing does not have to be confined in doors, it can also be used out doors. Dull gray cement floors are gradually changing into a work of art. As more people enjoy the beauty of concrete polishing, day by day there are new ways to enhance polished concrete. Just to site a few, you can stain it, add die to it, and arrange glass, nails or bolts to create a design. You can even have your polished concrete floor engraved.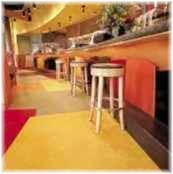 When people think of Polished Concrete, they often picture a drab, grey material used for the foundation of homes, unfinished basements and sidewalks; but consider the concrete floors that you see in large retail stores and in many industrial areas.These industrial strength floors are durable, decorative, and beautiful. With the help of your local contractor your dreams of having an attractive, very low maintenance flooring option is within your reach. When you choose concrete for your floors, driveway, garage or patio, you are limited only by your imagination. These floors can look as intricate as stone, as decorative as tile, and as creative as abstract art.
Homeowners also are beginning to understand all of the advantages that concrete polishing has to offer. With the help of your local polished concrete contractor, you can take dull and drab concrete and turn it into a shiny and lustrous floor with a long life and durable surface. Your polished concrete contractor will use his or her tools and expertise to polish your concrete, making it less porous and more beautiful than you ever imagined. Now you don't have to rip out and replace old flooring every few years – concrete polished concrete changes all that! Concrete Polishing for concrete floor is a process for turning a concrete floor into a highly abrasion resistant, incredibly dense, smooth and visually appealing surface on polished concrete.
Polished concrete has long been known for its durability and cost-saving features. With modern technologies, homeowners and business owners are finding they can harness these advantages of concrete in their floor along with many other added benefits. Polished concrete is a popular alternative to other flooring materials because of three noteworthy benefits: lower total cost, lower maintenance, and aesthetics. Polished concrete's superior durability and performance have made it a top finish for retail stores, warehouses, office facilities, and municipalities. Homeowners, as well, are selecting these smooth, high-luster floors that imitate the look of polished stone. Polished concrete floors are very economical. Unlike many other floor surface materials, a polished concrete floor can last up to ten years or longer before it needs to be refinished. Maintenance on a polished floor is also minimal, thereby reducing costs associated with keeping floors clean, durable, and traffic-friendly. Polished concrete floors are striking in appearance. The exposure of the aggregate in the concrete unveils a look of stone. There are a variety of colors available on the market to stain or in some other way modify the color and look of the polished concrete floor. There are also various levels of sheen depending on the degree of reflectivity and shine that is desired.